This Bitcoin Metric Just Dropped 4%—And It's Bullish For The Market
Bitcoin has rallied by approximately 25% over the past two weeks as Ethereum has wrested the market higher.
The asset currently trades at $11,750 as of this article's writing, with the uptrend still intact.
A crucial on-chain metrics, the number of BTC held by exchanges, has been dropping over recent days.
Analysts say that this trend is bullish for the cryptocurrency market as it effectively reduces Bitcoin's selling pressure.
As this has transpired, analysts are seeing multiple factors that suggest demand for BTC should increase.
The simultaneous confluence of a decreasing supply of and an increasing demand for BTC should cause the cryptocurrency to increase in value.
Bitcoin Held By Exchanges Drops by 4% Within Hours—and Analysts Think It's Bullish
The beautiful thing about Bitcoin is that if you have enough information, everything is transparent. You can peer into the wallets of billionaires, companies, and individuals to verify their claims, to figure out where funds have gone, and otherwise. Whole companies have been created due to this very premise as price signals can be derived from these trends.
According to blockchain data from CryptoQuant shared by analyst Cole Garner, the amount of BTC held by exchanges has "dropped off a cliff."
On August 3rd, the "all exchanges reserve" metric on CryptoQuant printed a decline of approximately 4% from 2.49 million to 2.39 million coins.
Garner sees this as a positive sign for Bitcoin, arguing that the metric suggests "whales bought the sell off"
"The amount of #Bitcoin held on exchanges just dropped off a cliff. It happened two days ago – whales bought up the selloff. $BTC flowing out of exchanges is *bullish*"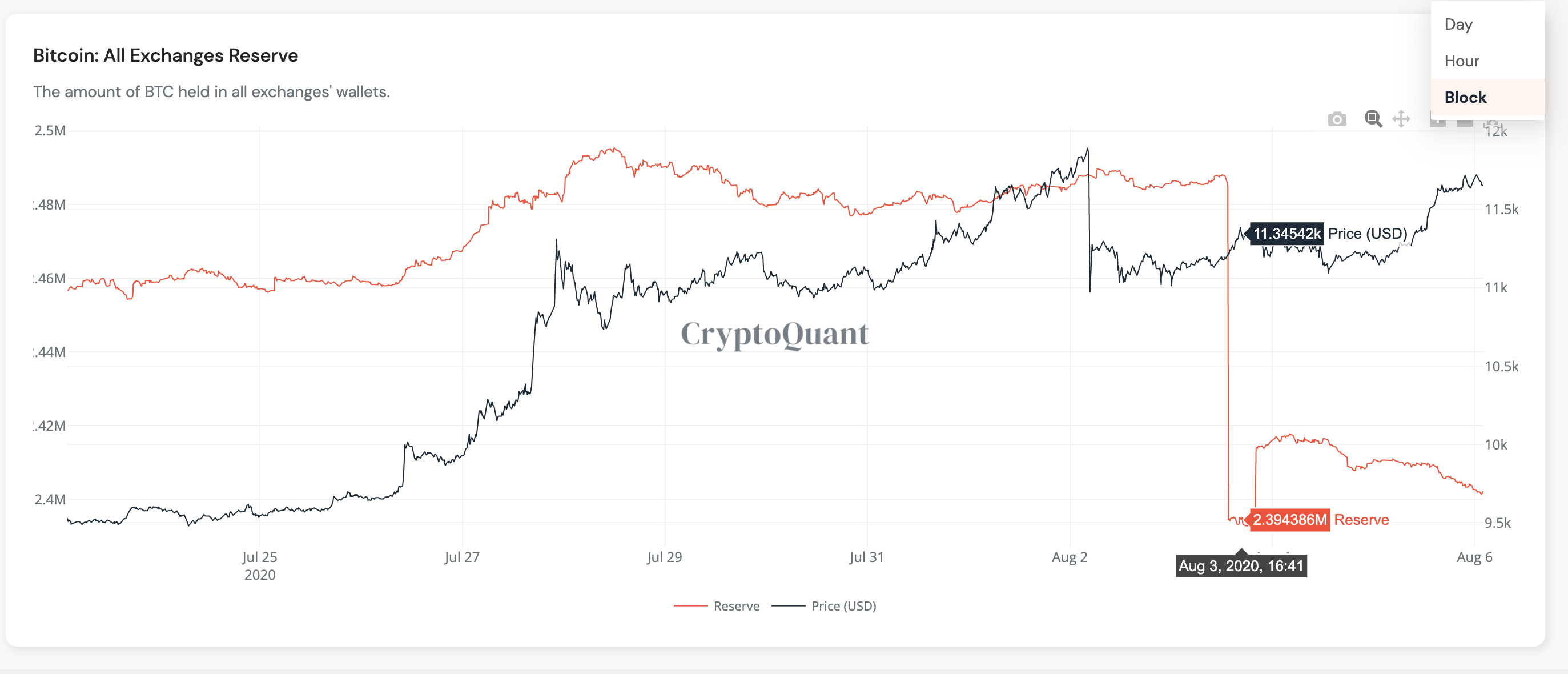 Chart of BTC's price action and CryptoQuant's all exchanges reserve metric shared by Cole Garner (@ColeGarnerBTC).
CryptoQuant provided a slightly different explanation, writing to Garner on his Twitter:
"68101 BTC transferred from Binance to a newly created wallet, and not clear whether it's their new cold wallet or the 3rd party custody. Even if it's Binance's, it could be a bull signal since Binance decided to reduce the portion of hot wallets in charge of user withdrawals."
Demand Set to Increase
Underscoring this decrease in the market supply of Bitcoin are the creation and propagation of many demand catalysts.
Fidelity Digital Assets, the crypto branch of Fidelity Investments, released a report last week showing why Bitcoin demand will increase over time. Some reasons why mentioned are as follows:
There has been record monetary stimulus.
Deglobalization could spur inflation.
Paul Tudor Jones and others are acknowledging Bitcoin.
The world is experiencing a "great wealth transfer" from baby boomers to those of younger generations.
The simultaneous confluence of a decreasing supply of and an increasing demand for BTC should cause the cryptocurrency to increase in value.
Featured Image from Shutterstock
Price tags: xbtusd, btcusd, btcusdt
Charts from TradingView.com
This Bitcoin Metric Just Dropped 4%—And It's Bullish For The Market